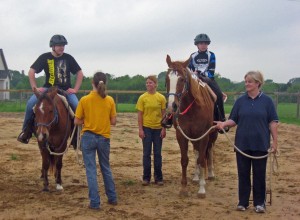 If you've never done an obstacle course with your horse before, you need to come out to Princeton this Saturday and join us at the Obstacle Course Fundraiser to benefit Grace Lake Therapeutic Horsemanship. This event promises to be fun for both you and your horse. This is not a competition, but a learning and training experience to enjoy with no pressure.
When: Saturday, June 18, 2011
Time: 9 AM to 1 PM
What: 20+ Challenging Obstacles & a Tack Sale
Location: Cowboy Church of Collin County, 2800 FM 3364, Princeton, TX
Cost: $25 Entry Fee (Additional Donations Welcomed)
Special Feature: In addition to an exciting obstacle course, Mustang Trainer Jerry Jones will be providing an obstacle training demonstration using newly trained mustangs
Negative Coggins Required
Lunch Included
RSVP to Suzanne Creel at 972-548-2016 or 205-807-2681

All donations are tax deductible and benefit Grace Lake Ministries a 501c3 that provides a Christ-centered NARHA therapeutic horsemanship program in the Anna/Blue Ridge area.
Directions to Cowboy Church of Collin County From 75:
Exit on Bethany Drive in Allen and go east.
Take Bethany Drive through Allen into Lucas (about 5 miles).
Continue straight through on Bethany Road, the road changes its name to East Lucas Road and intersects with FM 1378.
Go through the traffic light straight on Lucas Road.
In about ½ mile, when the road makes a sharp curve, you will see the Lucas Food Mart and Fina station on your left and a traffic light.
Turn left here at stop light on FM 3286 (aka Lucas Road) .
Go across two bridges and continue on Lucas Road until the road tees into F928. Turn left (north) and to until FM 3364 (there is a gas station on right corner). Turn right onto FM 3364 and go about 1/2 mile and you'll see Cowboy Church of Collin County. This is the location of the obstacle course.
Note: This is not an official TTPA event, but it is a horse event with many TTPA members attending.