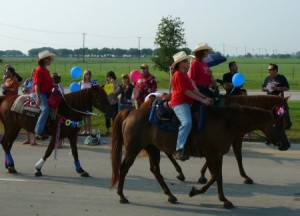 Parades are fun for both riders and spectators alike. As a child my favorite part of any parade was the horses. It hasn't changed.
Riding your horse in a parade can be a rewarding enjoyable experience, or it can be dangerous and scary. One way to increase your chances of having a good experience with a parade is properly preparing your horse.
First let's consider the parade environment from your horse's perspective. Parades are noisy. Spectators are usually not horse people so they don't stop to think that the balloons, flags, noisemakers, etc, might frighten your horse. Your best defense is to desensitize your horse to these things ahead of time.
If you have a lot of time before the parade, see if there is a desensitization clinic near you. As more people take to the trails with their horses, these type clinics are increasing in popularity. If you've never seen one, check out the photos of a de-spooking clinic that was conducted over at the Grasslands. Exposing the horse to flapping tarps, loud noises, bikes, strollers, umbrellas, plastic bags, etc teach the horse not to overreact when they encounter them.
Paring your horse with a solid confident horse to ride next to is another way to help keep your horse thinking instead of reacting. If a horse sees another horse staying calm, often times the horse will settle down. If you don't know a calm experienced horse to ride next to, another thing you can do is have a handler or walker who accompanies you on the ground. The walker should be someone the horse knows and trusts. This will help keep the horse in control and make the parade experience a pleasurable one.
If you get to the parade and your horse is overreacting, consider just keeping your horse at the trailer and using the experience as a training session. There will be other parades and its much better to play it safe than endanger yourself, your horse, and possibly spectators because you participated before your horse was ready.
Here are some additional tips from Tracy Matern who served as the Trinity Trail Preservation President for four years.
1. Make sure your horse is ready. Take your horse to as many "spook" or "desensitizing" clinics as you can or set up your own training. A good source of self- education on this is the book "Bombproof Your Horse" by Sgt. Rick Pelicano published by Trafalgar Square Publishing. My own Moonshine was afraid of a lot of things and we went to probably 6 different clinics. It was two years before I was confident enough that he could handle his first parade. I have to start all over now with my donkey Joe.
2. Learn and practice the one-rein stop. A horse can't rear, buck or run off if you stop him early with a one-rein stop. Use it at the first hint of trouble. It's good for his flexibility too.
3. Start with a small horse-friendly parade with just a few horses.
4. Make sure your cinch is tight. Check it after your horse has moved around a bit and double check it. Parelli recommends tightening a cinch in three stages, moving the horse around in behind each. Most of the accidents I've seen have been due to a loose cinch.
5. If your horse seems upset, consider just tying him to the trailer to get used to the sights and sounds of a parade or arrange for you and a helper to walk him in the parade. It is safer and smarter to not mount up or to get off if your horse is not calm. Trust your instincts…if you think you should get off, get off!
6. Make sure your horse is not afraid of any of the decorations you plan to use on him.
7. Protect your brain…wear a helmet!
8. Don't use different tack for the first time in a parade. Try it at home first.
9. Spread out. Don't crowd another horse or let yourself be crowded. Give your horse enough room to turn around and enough space to get out of the way if another horse spooks.
10. If you're in a parade that has a lot of stopping and waiting, try to keep your horses feet moving by circling the other riders or other means. Horses can be upset by constantly being held back.
11. At the end of the parade, don't pick up speed suddenly to get back to the staging area. If you are going to speed up, ask those behind you and make sure they are comfortable with it.
12. Be very alert and careful returning to the staging area. Stay with others on horseback. Often parade organizers do not provide people to stop traffic or open your path after the parade is finished.
Finally, remember that parades are fun so go enjoy yourself.