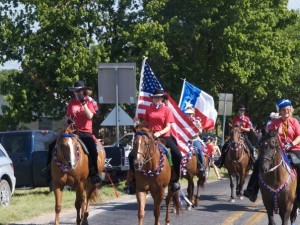 The 4th of July holiday is famous for fireworks and parades. Despite the heat, TTPA members participated in parades in Weston, Melissa, and Royce City. Since pictures tell the best story, here are some pictures from the parade.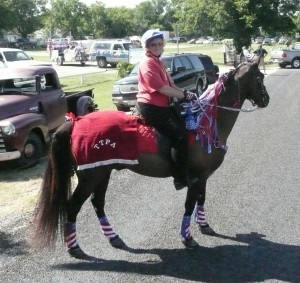 Tracy Matern and her beautiful horse Moon won 1st place in the Equestrian category at the Weston parade. Moon was in his glory with streamers in his mane and tail, star-spanneled leg wraps, and tack adorned with red, white and blue. Tracy did an awesome job of coordinating and spreading the word about the parades to TTPA members.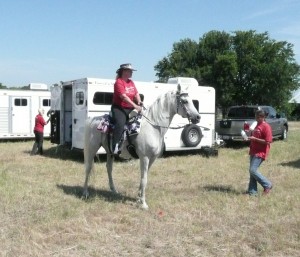 Ruth Blom and Solo were the 2nd place finishers in the equestrian category at Weston.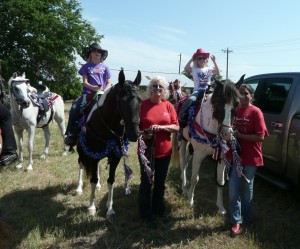 Marathon paraders Tracy Matern, McKenzie Martin, Carole Kowitt, and Carole's grandkids participated in all three parades despite the hot weather.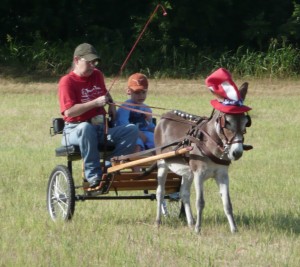 Karen Clardy and her miniature donkey Boy George were a hit with the crowd. It was interesting watching the horses puzzled reaction to the donkey before the parade. Many had never seen a miniature donkey before.
New TTPA members Jessica and Locke Lansford rode in both the Weston and Royce City parades. This was their first parade, but they did it like pros. Their horses wore spray sparkle in their mane and tails, glitter stars, and red, white, and blue flowered leis.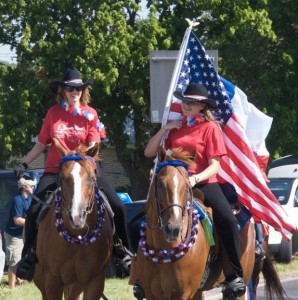 Carole Kowitt snapped this picture of mother and daughter paraders Chris Churchill and daughter Kaitlin. Kaitlin riding her horse Ranger had the honor of carrying the American Flag.
TTPA participates in parades in the North Texas area several times a year. The organization also has monthly group activities such as trail rides, horse clinics, and informative talks. Our next activity is a horse campout and a presentation by local veterinarian Dr Charles Kerin scheduled for 18 July at East Fork Campground. See this post for more information.
Below are other photos from the 4th of July parades.