Halloween Trail Ride
Mark Saturday Oct 31, 2009 on your calendar now and start thinking about a horse costume. The TTPA will hold its annual Halloween Trail Ride with a Hamburger lunch.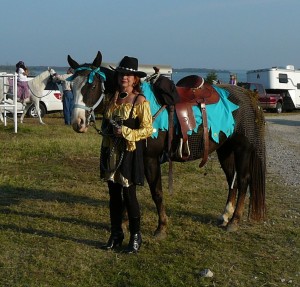 We'll meet at Brockdale Park in Lucas, Tx at 9:30. We'll ride out at 10 AM. We'll plan to ride in Costume. If you're coming alone and want to join a group, plan to be ready to ride by 10 AM. We will be welcoming new members or solidary riders in a group so don't stay home just because your regular riding partner isn't available that day. Join us and make new friends.
After the trail ride, we'll meet at 12:30 at the trailhead for lunch. For a $5 donation, we'll be serving hamburgers. At 1 PM we'll have a Costume Parade followed by Trailer trick or treating. Bring treats to hand out to the kids doing the trick or treating.
Note: We aren't having a Costume contest this year, but costumes are encouraged for the fun of it. We do plan a costume parade around the trailhead so bring yourselves and kids along in costume. Don't forget your camera.
To RSVP, contact Berdine Eberhart at 214-215-6141. Join the fun. Create a costume and come share memories and good times with friends. See you there.