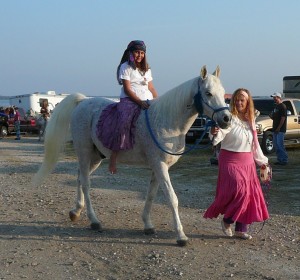 Here's a note from our Halloween Event Coordinator Tracy Matern.
Save October 30th for a complete day of Halloween Fun with your horse. Start by planning your best Halloween costume and riding in the Lucas Founders Day Parade. The Parade starts at 1 PM. Staging is behind Lucas City Hall starting at 11 AM. There is plenty of room to park your trailers there. Keep your costume on, stay for lunch and then trailer over to the Brockdale trailhead for a costume contest at 3 PM.
Scary witches will be on hand to serve you witches brew and prizes will be awarded to 1st, 2nd and 3rd places in 3 divisions—adult (over 18), young adult (14-18) and youth (under 14). Then put your costume away and ride the trail but be back in time to enjoy the company of friends and a good dinner at 6 PM. Lucas will also be offering trunk or treating for the littlest citizens at 6 PM back at Lucas City Hall.
If you don't have a horse or you'd like to walk in the parade, we need two TTPA banner carriers to lead us out. Please let me know if you'd like to do this at bobtracy at dfwair.net or 214-495-7493. This parade would be an excellent first parade for an inexperienced horse to try. There is not as much scary stuff as in some of the bigger parades and not as many spectators and plenty of room along the streets. He might, however, have to deal with a beautiful llama.
You can attend any and all of these events. Please RSVP to me for the Parade and the dinner at the email and telephone number above so we are sure we have enough food for you and can give an estimate to the Lucas Parade organizers. Remember to bring your Coggins papers for the activities at Brockdale Park.